The Miz is on this season of Dancing With The Stars and is doing OK. Though the clear favorite JoJo Siwa appears to be Cha-Chaing away with the competition, the Miz is hanging in there despite having some of the lower scores over the last few weeks.
The Miz joins Nikki Bella and Chris Jericho as WWE stars who have competed on the hit show. But we learned that another Superstar almost danced on ABC, and it was probably the most obvious choice.
Dirty Dango (FKA WWE's Fandango) revealed that in 2014 there was a slight push to include him in DWTS. He revealed the story during a virtual autograph session. Here's what he had to say about it via Fightful:
"Yeah, I went and met with ABC,"

"I think Randy Couture got it. One of the UFC guys, was it Randy Couture? One of those guys got it instead of me because I guess they were more famous than I was. Would have been a good payday."
This was a HUGE missed opportunity. His entire gimmick was that he was an annoying ballroom dancer.
It seems almost tailor-made to be on DWTS. He even had the dance partner already. Man, Vince really does drop the ball a lot with his talent.
Why was The Miz picked instead of Dango?
In fact, when Miz joined DWTS, some wondered if it shouldn't have gone to Dango.
Fandango looking @mikethemiz on #DWTS #WWERaw pic.twitter.com/dBqTZaRJuV

— Flex Maivia ??? (@A3ThePhirstDown) September 21, 2021
Other Wrestler's Who Would Do Great on Dancing With The Stars
Miz, Nikki Bella, Jericho, and Stacey Kiebler have all done the waltz on DWTS, but what other current stars would be a great fit for the show?
Naomi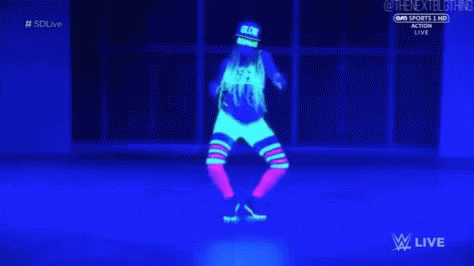 The former NBA dancer has the best moves on the roster. She already has great costumes. Naomi is currently in a feud with Sonya Deville which seems to be building since Deville's return to the ring.
Naomi, a former champion, is one of the most underutilized stars on the roster, and putting her on DWTS could give her the push she needs to get back on top.
Rey Mysterio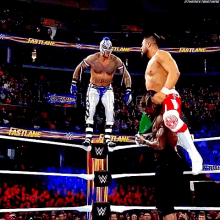 Mr. 619 himself would be a great addition. He's later in years, but still as nimble and agile as ever. Plus, his stature could allow his partner to try out some amazing lucha-style dance moves.
Though let's be honest, 90s WCW Rey would be the best DWTS contestant ever, and maybe Eddie could have been his dance partner.
.@reymysterio and Eddie Guerrero threw down in a CLASSIC 24 years ago today at #HalloweenHavoc 1997!

▶️ https://t.co/v1pD10cJDw pic.twitter.com/4GbfA18QME

— WWE (@WWE) October 26, 2021
Kane
Alright, this one is just a tad silly. Kane is one of the most beloved wrestlers in the ring and in the back.
Throughout his more than 20 years in the WWE ring, Kane has done a lot of silly stuff. Now he's the mayor of Knoxville. But it can't be Mayor Glenn Jacobs dancing, it has to be Kane and he has to be in the mask the whole time.
Which WWE Superstar would you like to see on Dancing With the Stars? Fire off in the comments below.
Share: