Sports
WWE Super ShowDown Report Card: Scores From Saudi Arabia Are In!
WWE headed back to Saudi Arabia, this time for Super ShowDown. Here's feedback on each match, with a grade also attached.
WWE went back to Saudi Arabia for Super ShowDown, which saw Goldberg return to take on Undertaker in a match that fans berated. Overall, the show was disappointing; so let's just get right to the grades.
Undertaker vs. Goldberg
Here, we had a dream match of Undertaker vs. Goldberg that would have been better 15 plus years ago. You knew this match would not last long and the entrances would probably take a majority of the time up. It was the first time these two met and hopefully the last. The match was full of botches from start to finish. What an embarrassing moment for both superstars. Grade: D
Handicap Match: Lars Sullivan vs. Kalisto, Lince Dorado & Gran Metalik
It seems like WWE ruined Lars Sullivan's main roster debut. Lucha House Party should not have needed to tag and Sullivan should have been the only one to get offense. While Sullivan got a ridiculous disqualification win, it did nothing to help elevate him. A one-sided affair is how the match should have been booked because now Sullivan seems like any other superstar. Instead, WWE needed to have Sullivan appear like they did with Braun Strowman during his big push a few years ago. Grade: C-
50 Man Battle Royal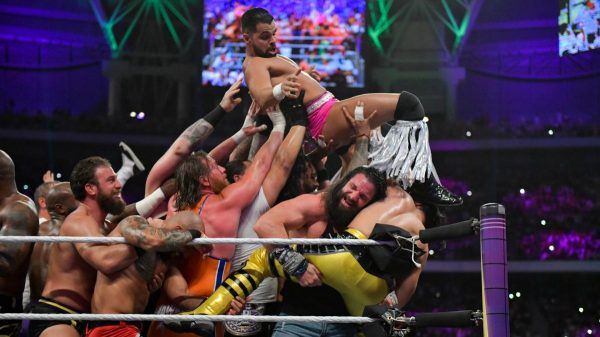 Sort of a tough match to score because there were so many entrants. Half of the superstars were eliminated probably within five minutes and then the match dragged for another several minutes. Out of everyone, the person with the least amount of experience got the win. Clearly, the Saudi Arabians paying WWE all this money played a role in Mansoor getting the biggest win of his early career. Grade: C-
Braun Strowman vs. Bobby Lashley
In a battle of possibly the two strongest superstars on the WWE roster, Braun Strowman got the better of Bobby Lashley. This was nothing special and the most interesting part might have been the temperature around the ring as both men had sweat pouring down their faces. Strowman was moving very slow around the ring and it seems that his knees are in bad shape. Grade: C+
Roman Reigns vs. Shane McMahon
Not many people can say they pinned Roman Reigns, but Shane McMahon can join that list. Shane would not be able to defeat Reigns without the outside inference from Drew McIntyre, so that leaves two programs open for the former Shield member. Shane pinning arguably WWE's biggest superstar seemed questionable. Grade: C+
Universal Championship: Baron Corbin vs. Seth Rollins
Heading into the match, we knew Brock Lesnar would appear and possibly cash-in the Money in the Bank contract. So, that was a clear indication that Baron Corbin was not leaving with the title. After Rollins got the pin, Lesnar headed to the ring and nearly cashed-in. If Paul Heyman did not trip, Lesnar would have left Saudi Arabia as Universal Champion. You have to wonder if Lesnar will blame Heyman as he seemingly had the title secured. Grade: B
WWE Championship: Dolph Ziggler vs. Kofi Kingston
Subscribe and get our daily emails and follow us on social media.
By opting in, you agree to receive emails with the latest in Pro Wrestling Entertainment from Ringside Intel. Your information will not be shared with or sold to 3rd parties.
After a lengthy absence, Dolph Ziggler made a surprise return to WWE and looked more vicious than ever. These two have met before and produced better matches. The ending was sloppy as Kingston's trouble in paradise did not connect as intended. Kingston mostly landed his leg/knee across the face of Ziggler to get the win. Grade: B
Triple H vs. Randy Orton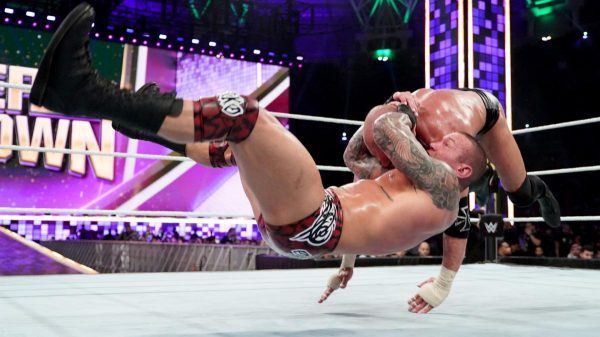 The announce team noted that these two men have not met since March 2010, but they have plenty of history. They have wrestled in possibly every match possible, so the story was there. They hit their signature moves with Randy Orton's RKO getting the better of Triple H. With Triple H only working a few matches per year and Orton having a limited schedule, this might have been the last time they battle. Grade: B
The Usos vs. The Revival
The Usos and The Revival are familiar being on the pre-show for WWE pay per views, with that tradition continuing all the way to Saudi Arabia. Both teams know what they are doing inside the ring and they work well when being opponents. Since the main card was full of high profile names, that meant these talented four men were stuck on the pre-show; unless you want to count the battle royal. Grade: B+
Intercontinental Championship: Andrade vs. "The Demon" Finn Balor
This was another instance where it seemed like a title change would not happen because Finn Balor was channeling "The Demon." This looked like the best match on paper and it delivered. While Balor struggled to stay in the main event scene, Andrade is being billed as someone who could replace Rey Mysterio in a year or two from now. Two of the brightest stars in WWE helped a show that was lacking entertainment. Grade: A-