Sports
WWE WrestleMania 35 Report Card: Scores Are In
Tons of titles changed hands and WrestleMania moments were created. It's time to look back at every match and grade the performances from WrestleMania 35.
WrestleMania 35 promised to be long show and it might have been one of the better installments of the event. Tons of titles changed hands and WrestleMania moments were created. It's time to look back at every match and grade the performances.
United States Championship: Samoa Joe vs. Rey Mysterio
Image Credit: provided via wwe.com
Short and sweet is a saying that did not work for the United States Championship match. The entrances lasted longer than the match and that could be due Rey Mysterio getting injured on RAW. They had promised Mysterio's son Dominic would be ringside, but he was absent. That also makes me think the original plan was changed within the last six days. Not much to score here and easily the low point of the weekend. Grade: D
Andre the Giant Memorial Battle Royal
When WWE first introduced the Andre The Giant Battle Royal, it was to honor the legacy of the Hall of Famer. Over the years, the match has become a filler. As Braun Strowman headed to the ring, you could see how there was already no room. Only a few names honestly had the chance to win, but Strowman was the favorite. The ending with the Saturday Night Live guys was lame. Grade: C+
Women's Battle Royal
Image Credit: provided via wwe.com
The biggest surprises were how quick last year's winner Naomi was eliminated and the dominance from Dana Brooke. A year ago, Asuka seemed like a surefire bet to win gold and now she could not even make it to the final two of a battle royal. Carmella was an okay pick considering she has the Staten Island gimmick. Now, she can add Battle Royal Winner to her name alongside Money in the Bank. We will see if she earns a title shot as a result. Grade: C+
Kurt Angle's Retirement Match: Kurt Angle vs. Baron Corbin
Kurt Angle's better days were surely behind him before heading to the ring for his retirement bout. You could see how slow Angle was and he was probably happy to get out of there in one piece. In pro wrestling, you lose in your exit. Even if fans do not like Baron Corbin, that is how this business operates. Grade: C+
Winner Takes All (RAW and SmackDown Women's Championships): Ronda Rousey vs. Charlotte Flair vs. Becky Lynch
Image Credit: Provided via WWE.com
There was so much hype going into the match as women headlined WrestleMania for the first time. The match had its moments and some good spots. Although, it did feel like the three were having trouble clicking. I am not sure if the ending was supposed to be controversial as a case could be made that Rousey got her shoulders up. That final pin did come out of nowhere and I believe will lead to a match on RAW or at the next pay per view. After watching Survivor Series with Rousey vs. Charlotte, this time around felt a bit off. I am not sure if that had to do with Becky being added or if the pressure was too much. The match did not meet my expectations. Grade: B
Universal Championship: Brock Lesnar vs. Seth Rollins
I do not think anyone thought the first match of the main card would feature Brock Lensar. After years of being placed towards the end of the card and the fans not showing interest, WWE flipped the script. Like all of Lesnar's matches, he used the suplex and F5 for offense. Seth Rollins was able to slay "The Beast" thanks to going low and three curb stomps. You never know what is next for Lesnar and that factor has no changed. Grade: B
Intercontinental Championship: Bobby Lashley vs. "The Demon" Finn Balor
Image Credit: Provided via WWE.com
Subscribe and get our daily emails and follow us on social media.
By opting in, you agree to receive emails with the latest in Pro Wrestling Entertainment from Ringside Intel. Your information will not be shared with or sold to 3rd parties.
We have seen Finn Balor and Bobby Lashley battle before, so "The Demon" had to make an appearance. Nothing too fancy here outside of seeing why "The Demon" is rarely used. WWE has been smart to only have Balor summon is dark side on rare occasions. WrestleMania 35 was the right time for Balor to morph into "The Demon." Grade: B
SmackDown Tag Team Championship: The Usos vs. Ricochet & Aleister Black vs. The Bar (Sheamus & Cesaro) vs. Rusev & Shinsuke Nakamura
Image Credit: provided via wwe.com
WWE tries to get everyone on the WrestleMania card, so we got four tag teams looking to secure the SmackDown Tag Team Championships. After such a lengthy run in WWE, The Usos finally got a win on the main card. The match featured plenty of tags without seeming too rushed. The biggest downside is that Ricochet & Aleister Black have now lost three titles opportunities in the span of a week.  Grade: B
Roman Reigns vs. Drew McIntyre
Image Credit: provided via wwe.com
Unless I am wrong, this was Roman Reigns' first singles match since returning from his leukemia battle. For some reason, the match never clicked. We had two of the hardest hitting superstars inside the ring, yet something felt off. I wanted to see some more back and forth as the match felt almost rushed. Grade: B
Women's Tag Team Championship: Sasha Banks & Bayley vs. Beth Phoenix & Natalya vs. Nia Jax & Tamina Snuka vs. The IIconics (Peyton Royce & Billie Kay)
Image Credit: provided via wwe.com
For the first time, Women's Tag Team Championships were defended at WrestleMania. We had a mix of the past, present and future involved. The match was okay, but I was hoping for a little more. If anything, The IIconics leaving as champions was shocking. They seemed like the biggest underdogs on the entire card. Grade: B
Raw Tag Team Championship: The Revival (Dash Wilder & Scott Dawson) vs. Zack Ryder & Curt Hawkins
Image Credit: provided via wwe.com
Sometimes streaks can break a superstar, but Curt Hawkins really embraced his 269 consecutive losses. At some point, all streaks end and finding the right place and opponent can be difficult. WWE had Hawkins reunite with Zack Ryder to win the RAW Tag Team Championships. The Revival deserved a lengthy run with the titles, but they could regain the belts on tonight's RAW. Grade: B
Cruiserweight Championship: Buddy Murphy vs. Tony Nese
Image Credit: provided via wwe.com
The pre-show is home of 205 Live, so of course Buddy Murphy vs. Tony Nese opened the show. We have seen better out of the cruiserweights as they usually steal the show, but they had a solid performance. It seems like the 205 Live brand focuses on the champion and nobody else. I imagine we have witnessed the end of Murphy's time on TV and  Nese is now up. The belt clearly does not mean much. Grade: B+
AJ Styles vs. Randy Orton
Image Credit: provided via wwe.com
Both men went out there and delivered, but the crowd seemed out of it. The fact that Hulk Hogan appeared and Seth Rollins opened the main card by wining the title was probably the reason for lack of enthusiasm. Hopefully these two will meet again as I feel they have more to give. I do not want to take anything away from the match because the crowd was flat. Tough spot for Styles and Orton to be in. Grade: B+
No Holds Barred Match With Triple H's Career on the Line: Triple H vs. Batista
Image Credit: provided via wwe.com
Coming into the match, we had to know that Batista could not wrestle and this would comedown to physicality. They got right to the weapons, using a toolbox with the perfect tools. Triple H showed his sadistic side, which we have not seen in years. Like most No Hold Barred Matches with Triple H, the deciding factor was a sledgehammer. Considering the feud started with Ric Flair, it only makes sense that he got involved at the end. Side note, Shawn Michaels was hysterical at the announce table in a brutal encounter. Grade: A-
Falls Count Anywhere: The Miz vs. Shane McMahon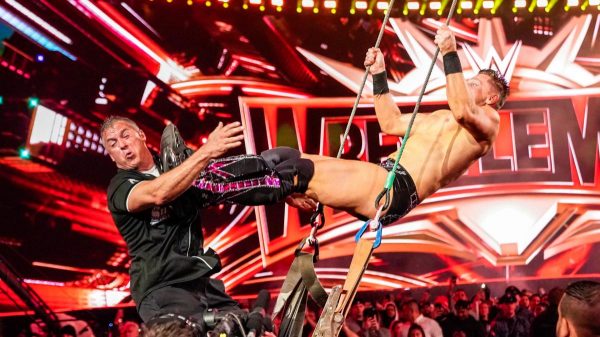 Image Credit: provided via wwe.com
When the card is so staked, I never understand why Shane McMahon gets a match. WrestleMania is really for superstars who work 365 days a year or the occasional rare appearance by a future Hall of Famer. At the same time, we got to see a new side of The Miz; a much more vicious side. Shane played the perfect heel. He took a major bump, but it was The Miz who instigated the spot. I liked how Shane secured the win after The Miz took both out. This feud is far from over.Grade: A-
WWE Championship: Daniel Bryan vs. Kofi Kingston
Image Credit: provided via wwe.com
After 11 with WWE, Kofi Kingston is finally WWE Champion. Considering how much Kingston went through to just get the title shot, you had to cheer for him. When we think about WrestleMania moments, Kingston getting the title will rank up there. It seems so fitting that he beat Daniel Bryan, who was in the same situation back at WrestleMania 30. I never thought Kingston would reach such a level, but the fans wanted it and the WWE listened. Grade: A-