Entertainment
Harvey Korman Falls Apart When Tim Conway Learns to Fly
Tim Conway often had Harvey Korman cracking up during their skits on "The Carol Burnett Show" and Harvey is hardpressed to keep a straight face in this one.
Tim Conway regularly had Harvey Korman falling apart during their "skits together on The Carol Burnett Show" but watching Harvey trying not to laugh was one of the best parts of this classic show.
"The New Angel"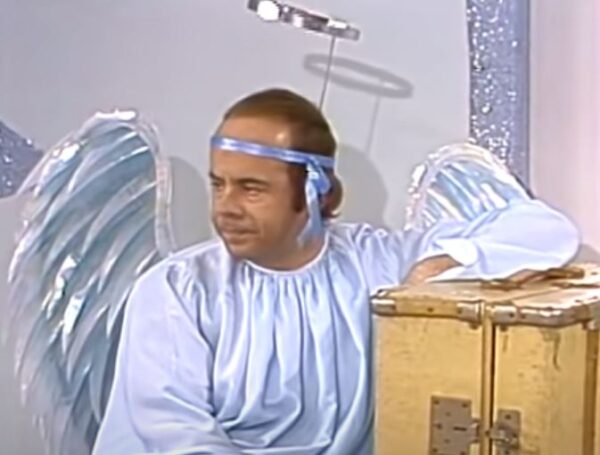 In the skit "The New Angel," Harvey had a hard time keeping it together the entire time! He was informed that he would be getting a new "cloudmate" in his heavenly abode. Apparently, there was a housing crisis in Heaven.
Harvey was more than a little irritated to learn that he would be rooming with brand new angel Tim Conway.
RELATED: Carol Burnett Hilariously Takes on Two Tough Truckers
Grumpy Harvey
Tim was up to his usual goofy antics, even as an angel, and Harvey was too grumpy about having to share his home to teach Tim the heavenly ropes. He couldn't even be bothered to show Conway how to fly. It's a wonder what Harvey's character was even doing in Heaven!
When it was time to tune his harp, Tim decided to play his tuner with his nose. Obviously, that didn't help Harvey to stay in character.
Throughout the skit, Conway acted like a bored kid trying to entertain himself while Harvey overreacted.
Subscribe and get our daily emails and follow us on social media.
By opting in, you agree to receive emails with the latest in Lifestyle + Entertainment from TellMeNow. Your information will not be shared with or sold to 3rd parties.
RELATED: Game Night Goes Hysterically Wrong on Carol Burnett's 'The Family'
The Final Straw
The final straw was pulled when Tim dropped a box filled with halos. Harvey couldn't hold it in any longer and had to turn his smile away from the camera. "Will you let me do my own reactions?" he yells at Conway!
The angry angel throws Conway, who still can't fly, out of the cloud. Suddenly, Conway's wing is shot as the skit ends.
This is hardly what you would expect to find in Heaven, but exactly the humor you would expect to see on "The Carol Burnett Show!"
If you loved watching this show, you will enjoy the video below!
If you are a fan of "The Carol Burnett Show," check out these seven behind-the-scenes facts about this beloved classic sketch comedy series!